The spirit of the campsite
Desire to rest, to leave aside the daily routine, to let go, to rest in peace in a natural environment 
By choosing to spend a few days in our campsite, you favor calm and tranquility. We welcome you in a good mood and kindness so that you feel at home. 
Holidays are essential for recharging the batteries! It's good to take a break and take the time… 
Time to dream, to laugh, to feel good, time for yourself, for family or friends  
We inform you that the free services cannot give rise to any reimbursement or reduction in the event of temporary or permanent impossibility.
conviviality and entertainment
Here is the schedule of events from 15 july to 17 august 2021
Our campsite being naturally calm and having chosen to favor the calm and tranquility of our holidaymakers, the entertainment does not end late!
You can enjoy your days as you see fit. Idleness, leisure, discovery… 
From 19 july to 16 august, paid pétanque competition (1 prize for each participant and a complimentary glass of friendship) from 5.30 p.m.
20 july, 3 and 17 august, concert from 08.00 pm to 10.00 pm with the group Idylle Trio
 27 july and 10 august karaoké  from 08.00 pm to 10.30 pm
Night pool until the end of the animations
15, 29 july and 12 august, themed meal around a large table from 7:30 p.m.
The swimming pool will be open until the end of the meal.
The swimming Pool to have fun
Open from middle oof mayto the end of september (according to the meteo) from 10.00 am to 09.00 pm. Night pool on evenings with meals or musical entertainment in July and August until 10 p.m./10.30 p.m.
To maintain a pleasant temperature in all seasons, the swimming pool is heated to an average temperature of 27 °. It is a real place of relaxation that awaits the whole family.
The basin, with variable depth, allows suitable use for the whole family.
The pool deck, equipped with deckchairs, armchairs and shade arbors, will allow you to read a book or take a nap. We lend you "fries", small balloons and weighted rings. We also sell armbands, buoys and swimming goggles at the reception.
Children must be accompanied and remain the responsibility of the parents. Swimming is unsupervised.

Swim shorts above knee are allowed

Only people residing in rental accommodation or on a camping pitch are authorized in the swimming pool area.
For the safety of the little ones, the campsite is fully fenced and access to the river is via a secure gate.
The campsite offers you below, a closed but direct access to Aveyron, a river with calm waters classified 2nd category for fishing. Mandatory fishing license, on sale at the village hardware store.
200m from the campsite, following the path along the river, you have the possibility of swimming.
Playgrounds for children, trampoline and kartings
A play area, specially designed for children, is at their disposal, with slide, climbing wall, scale games, swings, turnstile and trampoline. They will be able to meet and have fun in complete safety.
Budding cyclists have 2ha of flat land at their disposal! Think about small bikes. We also provide some balance bikes, go-karts and pedal buggies.
The campsite is perfectly enclosed and secure so that children can experience their adventures in the simplest way possible, in the company of many little friends.
Pétanque, foot, basket, volley and ping-pong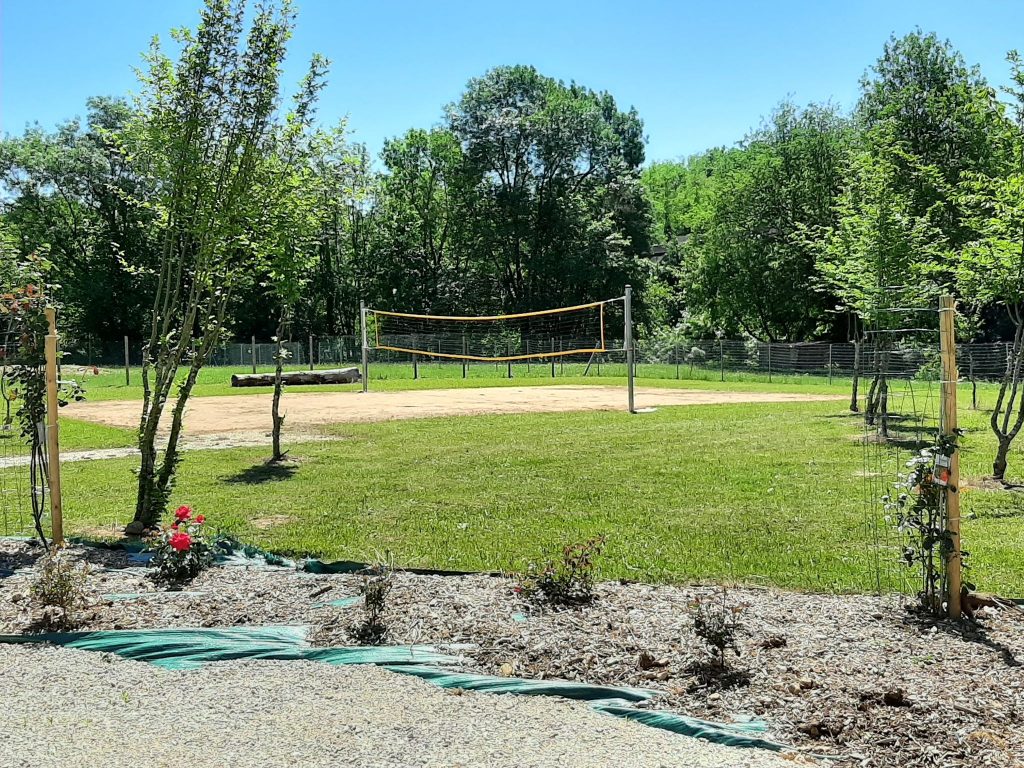 You will have the opportunity to play football, basketball, volleyball and badminton on our two courts.
Two ping-pong tables are at your disposal as well as a space with 3 fitness equipment.
A pétanque competition is organized twice a week in July and August.
We lend you free balls, shuttlecocks, rackets and pétanque balls.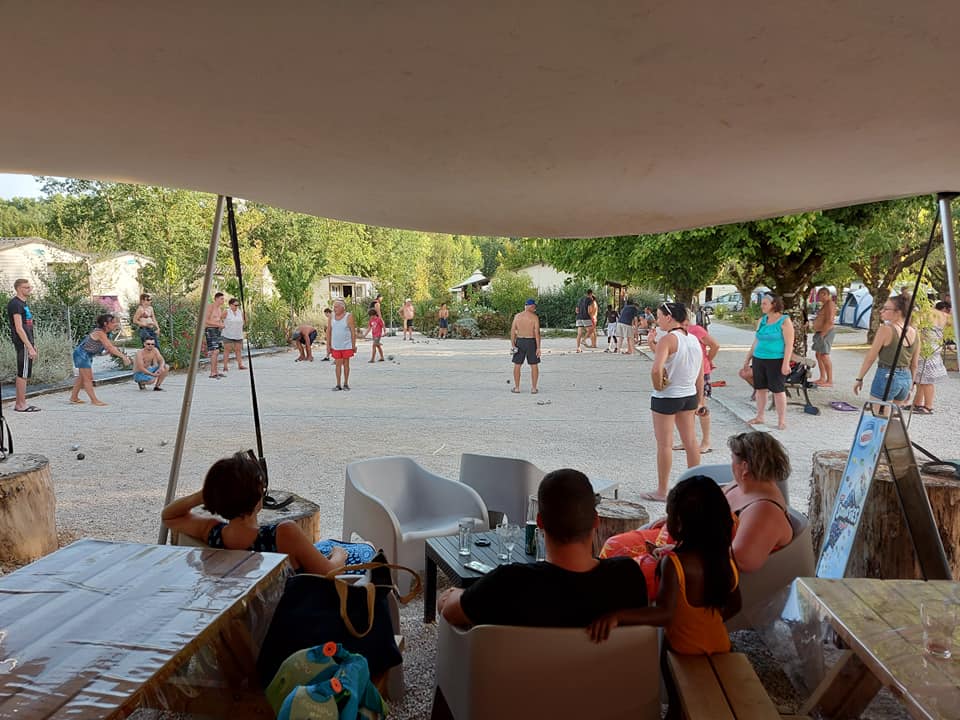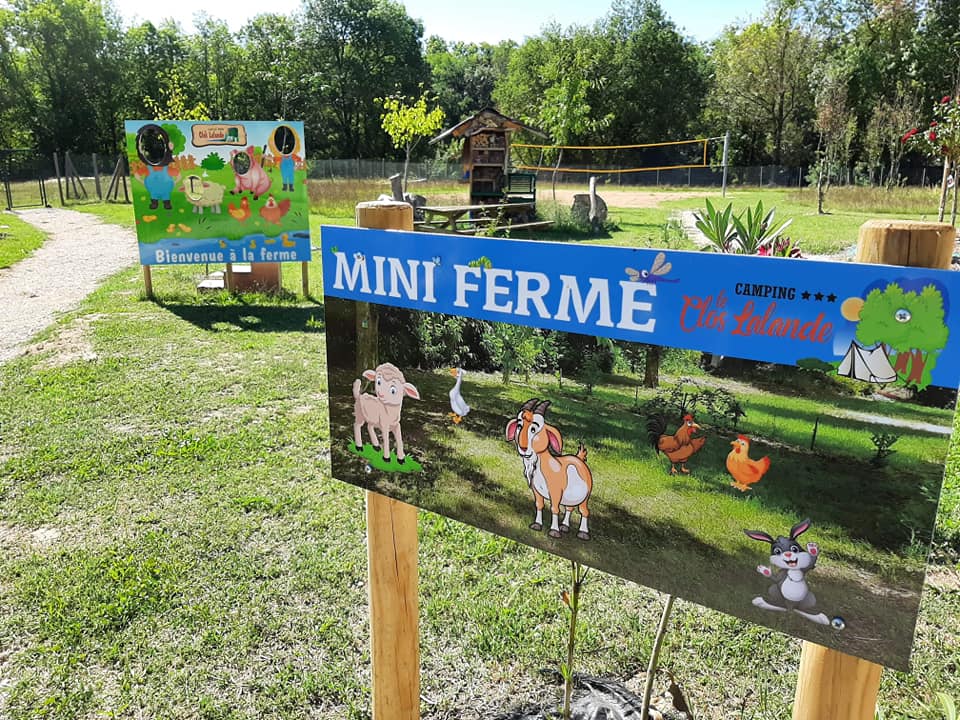 Young and old can come and feed the dwarf goats, Mimi the sheep, the chickens and the ducks.
All these little people love company and really enjoy being petted, come say hello to them.
Holidays close to nature.